The Structure for Fishing Jigs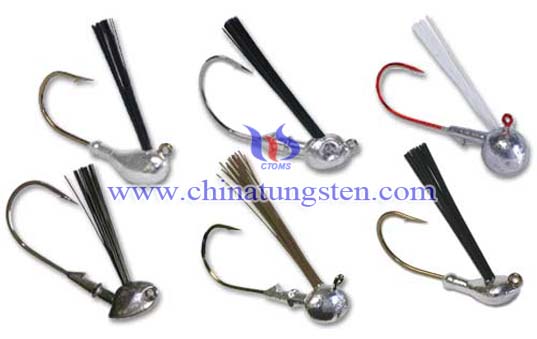 The head
The head of fishing jig has different color and shape. The most popular used shape of fishing jig is the round head, while the other shapes such as rocker-shape head, football-shape head, and bullet-shape head and so on also widely used. Of course, different color will result in different function. For instance, the round or the coned shaped fishing jigs have weed guard and can be more effective in water with thick cover compared to other fishing jig head, and the bullet-shape head have good penetrating capacity.
The body
The body also called trailer added to fishing jig in order to make jigs more alive.
It is well known that bass fishing jig has a pork rind trailer been hooked onto it to create extra appeal. Usually the pork rind trailer has been cut in a shape like a frog called pork frog. And you can choose different trailer according to varies fishes you want to fish and different weather you fish, what is more, depend on the fishing jigs you used, dark or light. The following rules will show you clearly.
Light fishing jig uses light trailer while the dark fishing jig calls for dark trailer. If you have a dark blue jig, a black trailer might be an appropriate choice.
And light colors are good for sunny days and dark colors are best for overcast days or at night. However, the combinations of a particularly bright or unusual color with a dark will also work well on bright days. In strong sunlight, it is a good condition for the sparkle of fishing jig which will make you get more fish because every fisherman favors minor color.
While one factor besides clouds also effect in picking out a color for your fishing jig, it is the water you are fishing in .For instance, a bright fishing jig would be a good muddy-water choice even on a cloudy day. The table below is a basic color guide for fishing jig's trailer.
Clear Water
Dirty Water
Sunday Day
Mylar-colors Brown-orange
Black-blue While-silver
Black-chartreuse Black-red
Black-orange Black-blue
Cloudy Day
Black-blue Black-purple
Brown-orange Brown-chartreuse
Brown-copper Black-green
Black-chartreuse Black-orange
Chartreuse Glow-in-the-dark-colors
Besides, if you want to get more bites, use a smaller trailer instead of a bigger one. It seems bigger fish do like large trailers, but the experiment shows us that it is not, a mall trailer also can catch big fish.
Sometimes the local behavior will upset the anglers, but just stick to the combination as a rule so that you will not be confused.